INGEDE and the Rest of the World:
---
Upcoming Meetings & Events

Past Meetings & Symposia (with contributions of INGEDE)
---
INGEDE Symposium 2014 on February 12 from 9:00 to 17:00 hrs
(more details about the 2013 symposium here)
---

June 13–14, 2013, Wiesbaden, Germany: ZELLCHEMING Expo and Conference. Latest technical and economical trends with scientific presentations about recent developments.
www.zellcheming.com
---
NIP29 September 29 to October 3, 2013 in Seattle, Washington


NIP brings together all the key players in the field from universities and industry from all over the world. Among a host of related products and services, are exhibits featuring inks and toners, papers, films, and test equipment.
http://www.imaging.org/IST/conferences/nip/index.cfm
---
European Paper Week (The Crowne Plaza – Le Palace, Place Rogier in Brussels) has developed a new meeting concept called 'Balanced Senses', a stimulation of the senses that makes you want to meet! In November 2013 you will again have the possibility to discuss and debate latest key issues and challenges.
Within European Paper Week, the CEPI Annual Meeting is a half-day conference presenting high-level speakers not only from industry, but also the European Institutions and other sectors. It focused on the big issues shaping the European industry's future.
www.cepi.org/epw
---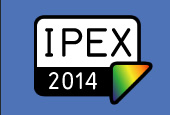 IPEX 2014, March 26 to April 2, 2014, ExCeL International Exhibition and Conference Centre, London, UK:The global event for print, publishing and media. Ipex covers the complete print production cycle, from concept to output. In 2010 over 1,000 suppliers took part, meeting potential customers who were looking for products and services for every stage of the print and communications process.
www.ipex.org
---
Calendar of international events of the Recycling International Magazine:
http://www.recyclinginternational.com/calendar/index.aspx
---
Back to the previous page
---
If you have any questions, do not hesitate to contact us!